Memorable Trek to Dhodap with Kshitiz!!!!
- Deepali Lanke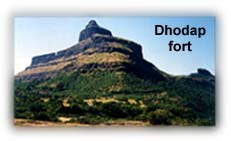 We were a group of twenty two people together started journey towards Dhodap. It was one of the memorable and amazing trek.Specially Trek leader Pallavi had done a good job...Applause For Her!!

I will share my journey in my words as below:-
It was bit difficult journey towards Dhodap for me as I struggled hard to join this trek,after doing lots of discussion & calls finally I got a hope (Shrikrishna Da was supposed join me from pune) but that hope darkened away ( due to some problem Shrikrishna Da cancelled his plan).. still didn't give up & tried for certain options after drawing some permutations and combinations, finally I found one positive ray of hope to solve the problem (thanks to Pallavi for helping me all the way)…Doing drama at workplace for leave was tough path but having confidence on myself helped me win the situation. . Bought ticket for railway & running on platform here & there lastly got into right bogie & started towards Dombivali…
After reaching kalyan Pallavi made my journey very easy by welcoming me whole heartedly & made me comfortable and treated me as one of family members. Had lovely dinner at her place which made me remember of my home...After packing left for venue where all Kshitiz members met & all were excited to go for trek…Journey started in bus with slow & steady music which made me sleep Silently..

Base village welcomed us & with guidance of Amit Da & village people..we started for trekking, on the way got fresh n up & had yummy idly chutney… Walking & climbing started, rock patches made us breath heavily, taken little break in between and finally we reached at caves …waited for other members & after getting fresh n up we had yummy home made food .... Though I was not carrying anything thanks to other trek members who shared food with me...Due to tiring morning session everybody went a sleep…and I was observing silence on fort & serene beauty of the fort & captured everything in my eyes…while exploring the fort we found 2 story down hell (Water canal) which was an amazing experience and we were overwhelmed to be there…
While looking towards plain ground & all the nearby forts (Katal Range) I was feeling like they are inviting us and challenging Kshitiz group to reach there in future.
Sunset and sunrise was amazing…. Amit da has given all the information and importance of Dhodap Fort which was necessary…After having yummy soup and pulav our day ended beautifully & all of us went to a sleep… Next day morning was fresh and beautiful... First time I had experienced the sun rise & Sun Set at a fort... The beauty of the moment can not be explained in words… We had yummy pohe which we made there & after sometime we started our journey back to the base village... While getting down I was feeling bad & my feet was not letting me leave the fort…after exploring remaining fort got down at base village and got into bus…was very hungry after the trek and Dashamesh Dhaba made our stomach full and joy came again on our faces after so much hard work…We started back to pavilion meanwhile had fun and photo shoot at Dashmesh Dhaba was unforgettable…after getting down at Nashik my journey started towards Pune…while remembering all the prettiest moments and seeing the Satmala Range finally reached to Pune!!!!

It was amazing experience & all thanks to Kshitiz group who made us enjoy trekking fully.