Red silk cotton bug (
Dysdercus cingulatus Fabricius
)
Also called as cotton stainer bug. Their nymph and adults feed on developing or mature seeds of red cotton silk tree. Penetration of developing cotton bolls leads to occasional transmission of fungi which develop on the immature lint (seed covering) and seed, rendering the later unviable and staining the lint to the typical yellow colour.
"Life-history: The eggs are laid in clusters of 80-100 in cracks of the soil or dry leaves near the plants. The nymphs hatch out in about 7 days and become adults in 40-85 days.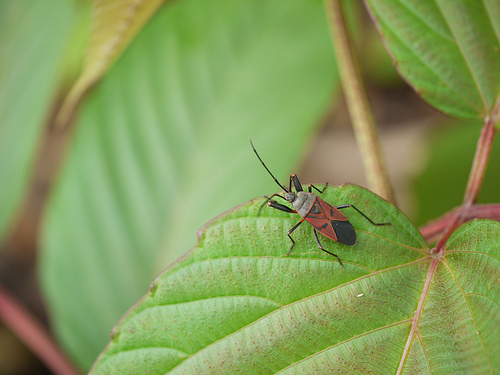 The ones in the picture are nymphs, and prefer living in aggregations. Once they molt into adults, they tend to go away, although remain in close proximity. They breed through the season, and are seen feeding on dead insects also, they r even known to cannibalize.
Third and subsequent instars can penetrate unopened fruit to feed on developing seeds. Rate of development of egg and five nymphal instars is temperature and nutrition dependent.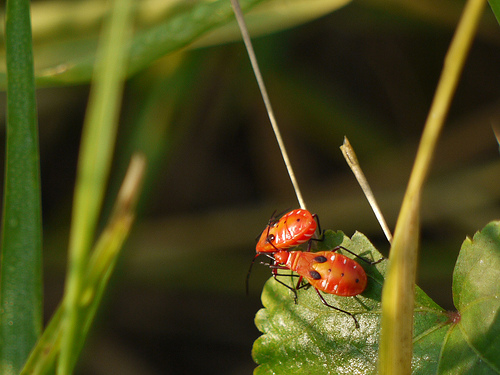 The red colored adults are marked by a row of 3 black spots in the middle of the abdomen and 3 white spots on either margin of it.
Interestingly, it is considered a pest as it feeds on the seed of the cotton crop and does not allow it to germinate. But if we change the perception, it is a fascinating insect which emerges only when the red cotton silk tree starts its seed dispersal and this bug feeds on its seeds till monsoon and then disappears
Source - Cotton pests, predators and parasitoids - Descriptions and seasonal dynamics (Central Institute for Cotton Research Nagpur, India)
Photo courtesy - https://www.flickr.com/photos/dinesh_valke/4138285149/